Patients' Stories
1. The Story of Little Ruru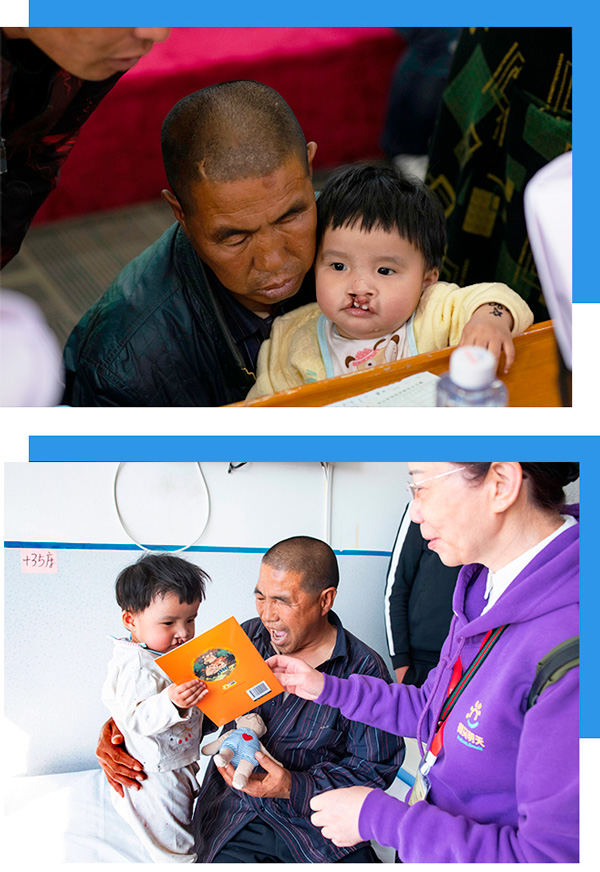 Little Ruru was hard to miss in the waiting area; there was a great opening on her lip, yet she has a pair of bright and beautiful eyes. She was in the arms of an elder, surrounded by a few grownups. Curiosity drove us to find out more about her.
From the town of Cha Su Qi, Ruru is one year old. Her father, paralyzed below the waist, was among the group around her; her mother, with an intellectual disability, was not in a good state; the elder holding her, her grandfather, suffers from hemianopsia.
Due to the fact that Ruru's parents are both disabled, lacking the ability to work, she then relies on her grandfather and her grandmother who is not so healthy either. Her grandparents support the family by farming and a monthly low insurance cost of 200 or 300 yuan.
Ruru's relatives told us that due to the family's poverty, low level of education and limited local medical resources, Ruru's mother took antibiotics when she was ill during her pregnancy. The whole family thought antibiotics might be the cause of the child's cleft lip and cleft palate.
Although the living conditions are harsh, the family still took Ruru to the surgery. This was an unconditional love beyond the materialistic one. Fortunately, Ruru successfully passed a series of preoperative examinations and was scheduled for surgery. However, because her disease was severe, one operation could not completely get her well. We believe that experts from Future Smile will try their best to help Ruru keep smiling in the future.
2. The Story of Yanqing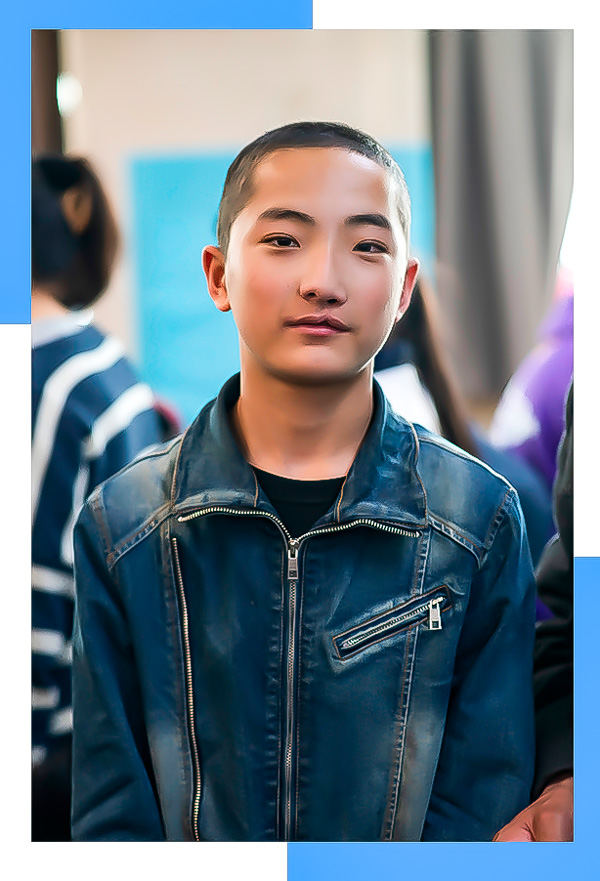 Compared with other younger children, Yanqing, a teenage boy at a tender age, is an older child in this program. He is always a little embarrassed when being asked about his cleft lip and cleft palate, so his father answered for him.
Yanqing's father told us Yanqing's mother left the family when Yanqing was small. From then on, Yanqing's father became both father and mother to bring up two children in the family. In order to support the family, Yanqing's father moved from place to place and worked hard to make money. For more than ten years, he is always sorry for Yanqing's cleft lip and cleft palate. Also, due to a poor economic condition, the child has not been able to accept surgery.
Luckily, many people know about Yanqing's story and try to help him out. One of them keeps buying school supplies for Yanqing and introduced the Future Smile program to him. The good news was his surgery was done by professor Guomin Wang from Shanghai Ninth People's Hospital affiliated to Shanghai Jiaotong University School of Medicine. The second day after the operation, professor Wang came to the ward, cleaned the wound for Yanqing, and gave his advice for postoperative precautions. After Yanqing left the hospital, his father sent us a photo of Yanqing at home and he deeply appreciated efforts of Future Smile. Staff and volunteers from Future Smile are happy for Yanqing because seeing children getting well is the best thing for them.
3. The Story of Qiqi
Many people think Qiqi is a cute boy; in fact, she is a little girl who loves to laugh and often dresses like a boy. From a village in town Dalin, Tongliao, Qiqi is three years old and she took a train for 17 hours to get to Hohhot along with her grandmother.
Why were her parents not with her? Qiqi's grandmother told us that although Qiqi's mother knew that the child's facial structures were not developed, she still gave birth to Qiqi because it was hard for her to get pregnant. After the child was born, Qiqi's parents had no time to celebrate their parenthood; instead, they ran around, wishing to cure Qiqi of her cleft lip and cleft palate.
Unfortunately, due to limited medical resources, Qiqi is unable to have surgery. Qiqi's father worked very hard in the construction site, hoping to make enough money thus taking Qiqi to a better hospital for surgery. However, Qiqi's father suffered from a severe injury and his legs were hurt by a heavy object. The diagnosis showed that he could only lay on the bed and could not work anymore. After giving birth to another girl, Qiqi's mother became sick as well, so the burden of supporting the family had been placed on her aging grandparents.
For this family, Qiqi's grandparents, who were supposed to enjoy the rest of their life, worked in the fields every day. With an annual income of 30,000 or 40,000 yuan, they had to support six family members. Qiqi's grandmother said that a few years ago, she knew about a program that children with cleft lip and cleft palate could be cured for free, but the 400 yuan transportation cost to Hohhut was so expensive to them that they missed the chance to cure Qiqi. Over the years, her grandmother always felt guilty and sorry for the Qiqi. As Qiqi grew up, she began to notice that her mouth was different from that of other children, so she no longer loved to laugh. This year when Qiqi's family was told that free cleft lip and cleft palate operations would be done in Hohhot on the next day, Qiqi's grandmother decided to take Qiqi to Hohhut without hesitation.
After signing up, Qiqi asked her parents every day about when she could go to the doctor. She was full of expectations and joy. People asked her whether or not she would be afraid of the surgery and she said she was fearless. On the afternoon of April 14, Qiqi's surgery was finally finished. We are looking forward to the day when she smiles with confidence after her stitches are removed.
4. Afterthought
During the interviews, we were often touched by those stories. Some parents, like Qiqi's parents, had already known that their children have a cleft lip and cleft palate, but they still wanted to give birth to them because they believed the development of modern medicine would help children get well. The older children were strong and brave enough to face their deficiencies. Although they were afraid of surgery and postoperative pain, they still waited in the ward quietly, shaking our hands when we interviewed them. We believe this action may give them some courage.
In every program, we felt the feelings, expectations, and joy of parents and children. We hope we can work with more philanthropic people in the future to help more children with cleft lip and cleft palate.